In Facebook, you will find a section called "Guides" at the top of the page menu bar.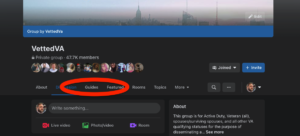 Guides are curated for specific posts to deal with a subject of interest.
Please utilize these guides to answer and support veterans' questions on what they are looking for with information and giving them a source to learn on their own.
These are current "Guide" sections by topic (updated 12.12.21):
VA Lending: In's, Out's and Others
Vetted VA: What You Should Know About This Group
Please utilize these links to SUPPORT the Veteran after answering their questions as a secondary source of education and learning.