As a Vetted VA™ Professional, you are permitted to use the trademarked Vetted VA emblem, rank insignia, name, and other marks that we designate to distinguish your membership and service.
Only during times of active enlistment does this permission exist.  At such a time as you leave the Vetted VA Membership, you are to stop all use and remove all logo/insignia from your personal or professional profiles and websites.
Proper use of the Vetted VA logo would include the following: Logo, Stacked, or Horizontal.  The Rank Insignia is also shown.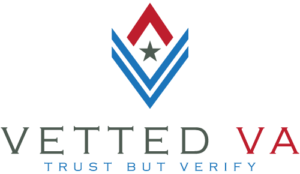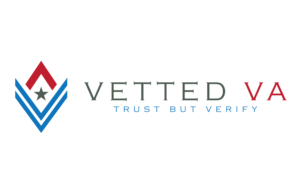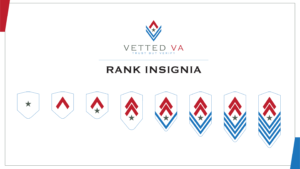 Permitted publication of the VVA Mark would be in email signatures, website landing pages, social media postings, postcards/handouts, and table draperies.  The permitted title to be used is Vetted VA™ Professional.  You may also include your rank if you so wish, such as VVA3, VVA4, etc.
Please link all Vetted VA logos in email signatures and web logos to https://vettedva.com, or to your main state page that you reside in.
Any titles that are written or distributed to identify your connection to Vetted VA should be as follows: Vetted VA™ Professional.  Please never use the terms Expert, SME (Subject Matter Expert), Specialist, or other titles that denote expertise.
From VVA3 on, you will be emailed a Vetted VA™ Professional Rank Insignia to apply to your materials.
An official Vetted VA™ PowerPoint deck can be downloaded here.
Before printing or deploying please pass all proof drafts to info@vettedva.com for confirmation and written approval.
Together we must guard the usage and distribution of the Vetted VA™ mark in the world.  Keep a careful eye for misuse and report any and all sightings to info@vettedva.com.
The Terms of Use that govern the mark can be found here, specifically in this section:
"Vetted VA's Proprietary and Intellectual Property Rights.
We own the Service, which is protected by proprietary rights and laws. Our proprietary information may not be copied, altered or otherwise used, in whole or in part, without the prior written authorization of Vetted VA and/or its licensors.
The trademarks, service marks, trade names, trade dress and logos contained or described in the Service are the sole property of Vetted VA and/or its licensors. You may not use such protected intellectual property in connection with any product or service that is not ours, or in any manner that is likely to cause confusion. Nothing contained in the Service should be construed as granting any right to use Vetted VA's intellectual property without the express prior written consent of the owner."