---
---
People think that sellers have some sort of a bias against VA offers. Think about this situation: There are five offers for a property and the best offer is the offer with a VA loan. The seller or agent might compare that to a conventional loan offer where the buyer is putting down 30%. They immediately know if they can make up that gap if an appraisal comes in low, so they choose the conventional offer, even if the VA offer happens to be the one with the highest bid.
---
---
IT'S ALL ABOUT RELATIONSHIPS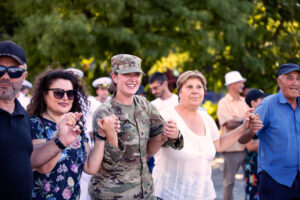 Vetted VA reps try to build relationships as much as possible. Being an advocate for clients is important and that starts with finding out what the seller's and buyer's needs are. A Vetted VA rep will communicate and try and solve the problems that the seller has. There may be military-specific needs a non-Vetted member may be unfamiliar with, such as set move-out dates, high turnover, and overseas moves requiring appliance storage or disposal.
The Vetted VA rep can really educate other agents and show them how strong a buyer is.
Find a Vetted VA rep near you!
---
GREAT LOAN OFFICERS GO THE EXTRA MILE
There really is no such thing as a weekend in the life of a strong loan officer. Most of the time, agents simply send over a list of homes and then help you shoot over an offer. That's definitely not going "above and beyond" and demonstrating how much you care to help a client. They should be providing incredibly current preapproval packages that can be sent out at any time of day right from a phone to make sure that the buyer is fully qualified when putting in an offer.
Conventional loans are pretty much black and white: you either meet it or you don't. VA loans, however, are literally the most flexible program out there.
CLICK HERE for Lenders that go the extra mile!
---
GUIDELINES ARE CHANGING BY THE MINUTE
Some lenders are basing their knowledge on old and outdated VA loan lending guidelines and telling sellers that they have to pay extra fees when the borrower is using a VA loan. In reality, the seller shouldn't have to pay anything more on a VA loan than they would with any other type of loan.
A lender might be basing their decisions and advice on information they learned about VA loans ten years ago. Many times, the VA loan is the exact opposite of what the perception is.
It all goes back to relationships. A Vetted VA representative will stay ahead of the market and try to solve problems before they arise. They're more aware of what military families are going through in regards to their moving timeline, staying in hotels, and quickly trying to find housing in a new area.
It's all about the veterans and for their benefit.