Veterans: Vetted VA is A New Standard of Service and Integrity
​Veterans deserve access to accurate information.  Overlays, warehouse lines, ignorance, and bad actors or brands all presently manipulate the Veteran's earned benefit in ways that do not most benefit the Veteran, even placing the entitlement's future existence in jeopardy. The VA's reactive nature has proven insufficient at preventing or curbing practices that harm Veteran-earned benefits.
Vetted VA will use data to influence national policy while providing Veterans best of class national support system.  Interest Rates, Fees, Options, Service, and Education make up the pillars of how we identify and provide Veteran consumers best of class-Vetted VA professionals.
Committed to Serving Veterans
If you wish to abide by a higher set of standards for your profession, then this is the right move for you.  It is complex in its simplicity.
Public sentiment will declare that this is the hardest path in which to prove you are a professional who is willing to fight for the Veteran along every step of the Home Loan process and beyond.
If you:
want to serve Veterans in a way that supersedes every other brand out there that face them in the VA Home Loan and Mortgage market
are looking for a community to support you in serving Veterans to the best of your ability
are looking for tools that are perfectly positioned to support the Veteran's need to make the best financial decisions
are willing to abide by a certain set of standards that are not easy to achieve
If this is something you are looking for and think you're ready to dive in, no matter how long you've been in the industry, then we want to hear from you.
Professionals: email info @ vettedva.com with the subject "I'm interested in joining."
ETHOS: We create a new standard of service and integrity for Veterans utilizing their VA Home Loan Guarantee.
MISSION: To locate, close with, and destroy ignorance with education and authority; and to repel the ignorant assault with consistent, persistent, and predictable citation of sources. All of this is done to support the Veterans, Active Duty Servicemembers, and their families in successfully utilizing their earned VA Home Loan Benefit.
VISION: The VA Home Loan Guarantee is where we plant our flag 1st because we believe equal access to affordable homeownership opportunity is inherent to each individual and the lowest common denominator for financial success in America. Further, we believe Veterans are identified, targeted, and discriminated against as a definable 'class of consumer'.
A status as "Veteran" should not be significant when purchasing or refinancing a home. Discrimination, price gouging, and violation of privacy with trigger leads all seek to harm, remove, or molest the contractually earned benefit of the Veteran in ways that do not benefit them.
VettedVA seeks to resolve these issues through Community, Collaboration, and Cooperation. We seek to create a new standard to serve Veterans utilizing their VA Home Loan Guarantee. VA benefit terms and services are clearly defined; Veteran's service purchased these Equal Credit Opportunity Rights and benefits through their years of service. We will ensure their benefits in homeownership are available to all Veterans in the way the commander initially intended.
Vetted VA™ Professionals are organized and identified by ranks.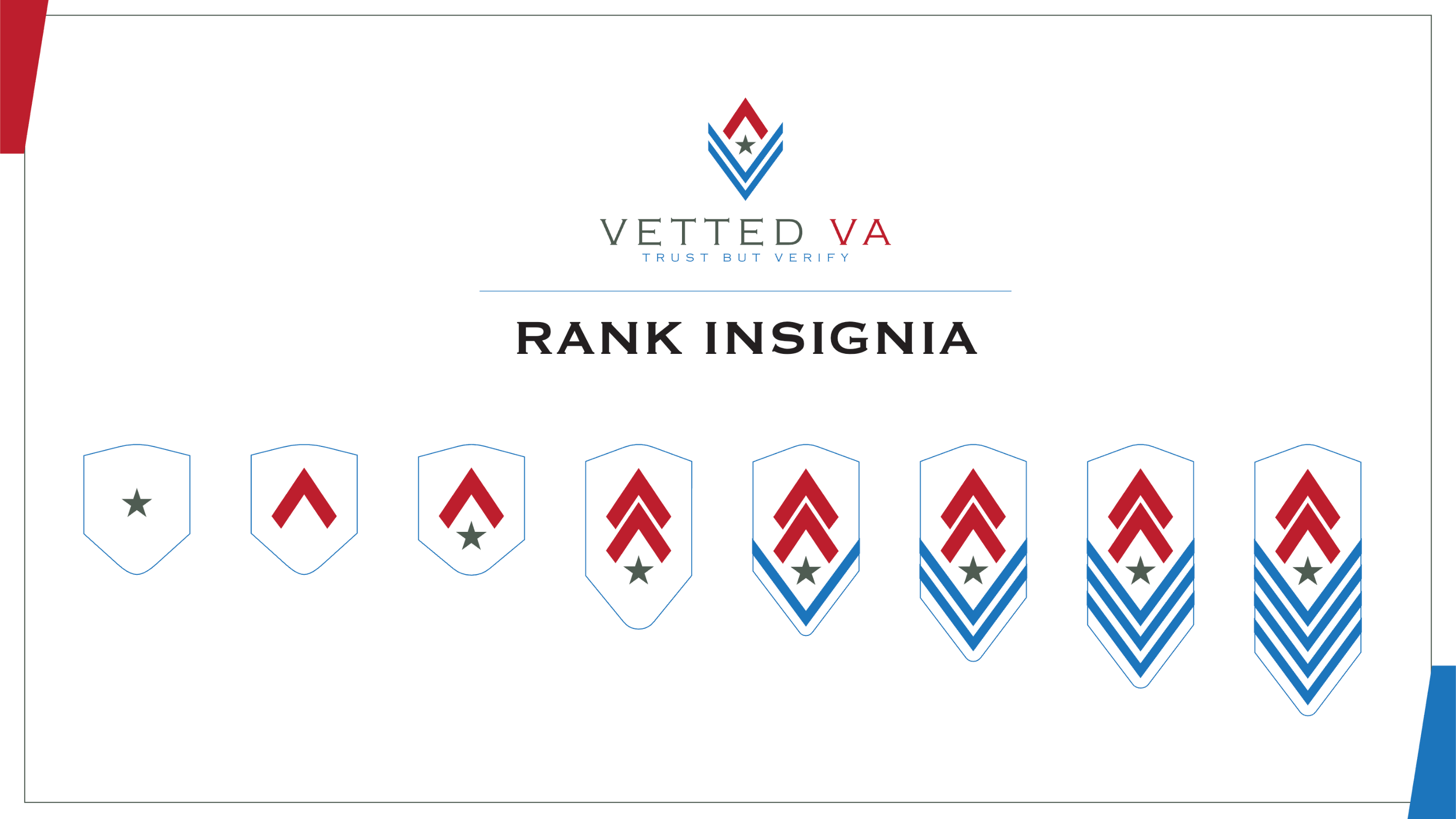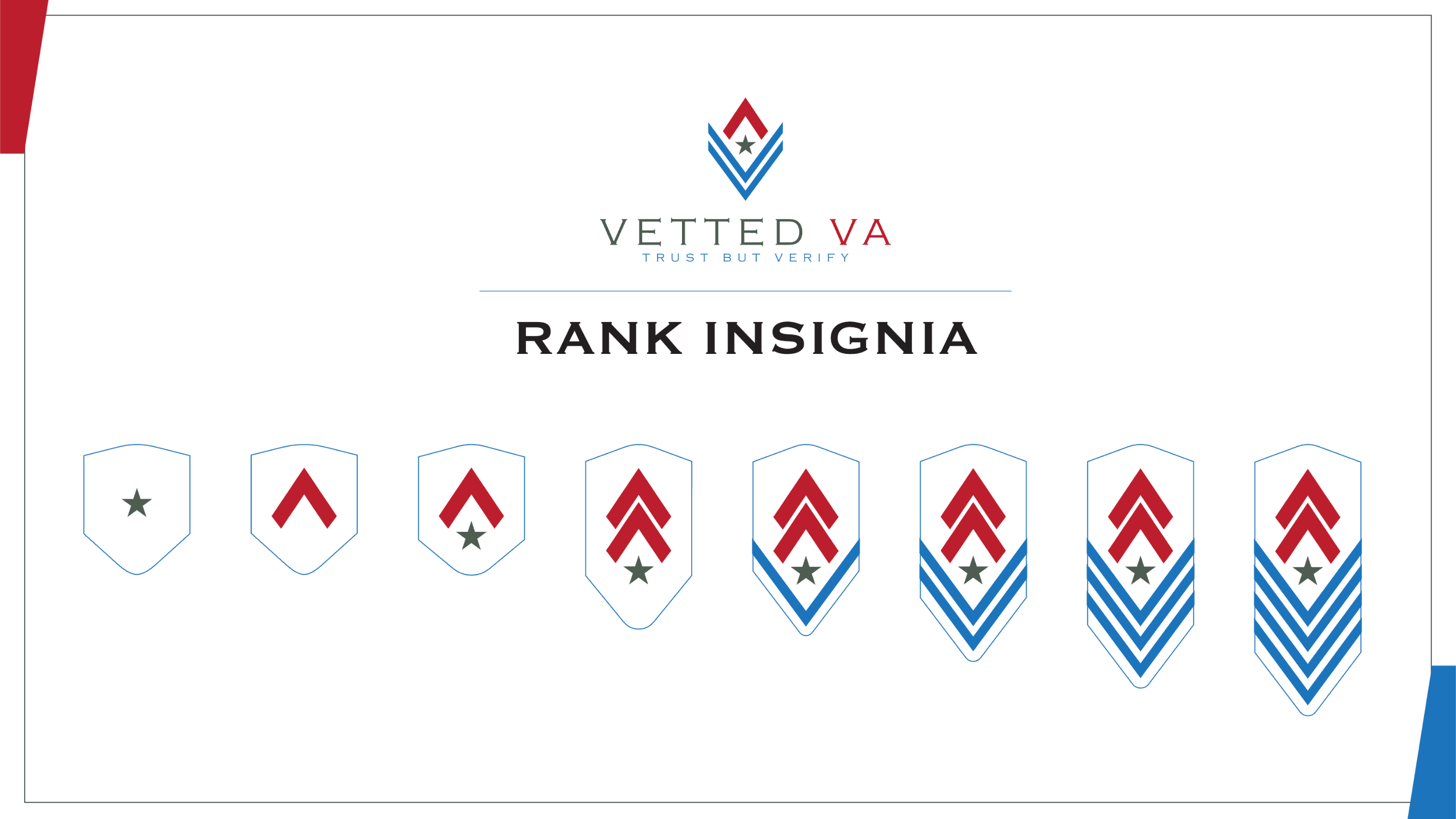 What does it mean to see the rank of VVA1, VVA2, VVA3, VVA4, and so on? Chris will take some time to describe why and what behind all the ranks.