Debunking VA Myths: Why You Should Work with a Veteran
This white paper aims to uncover facts about VA lending through data and, to the extent possible, clarify and dispel some of the myths about the VA loan. The paper is a collaboration of Vetted VA, Polygon Research, and AIME. Our approach involves:
Extensive data analysis of key data sets that inform our understanding of the VA loan described below, and 

Extensive use of the VA lending expertise of Vetted VA loan originators, many of whom are Veterans themselves.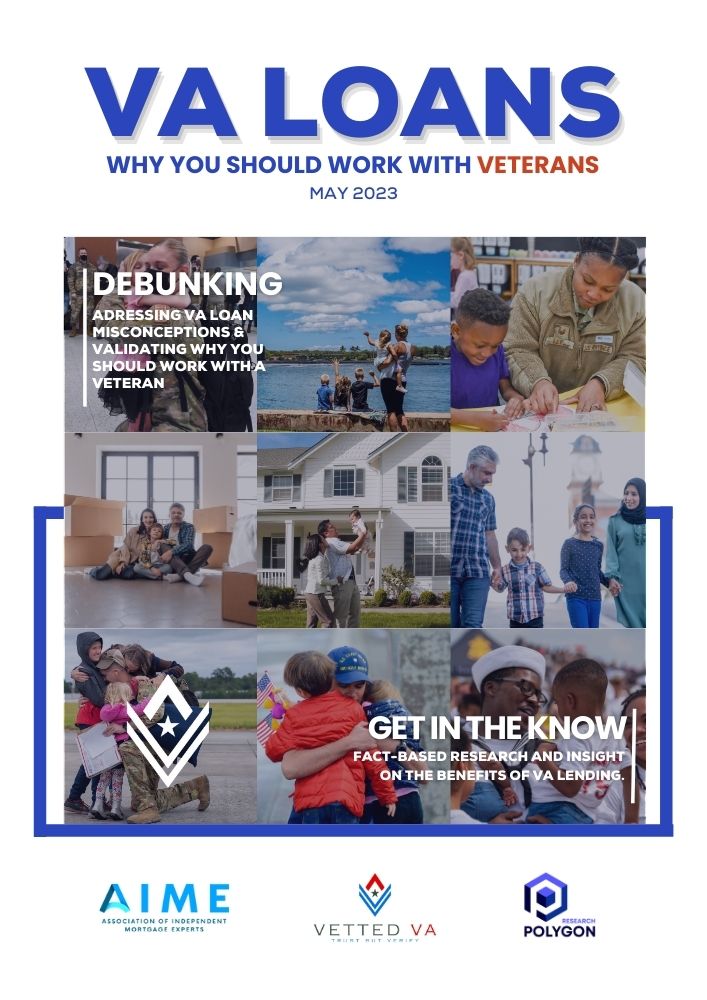 What is a VA Loan?
The VA home loan is a benefit earned by Active Duty Service Members, Veterans, National Guard members, Reserve members, and eligible surviving spouses.
In 1944, Congress passed the Serviceman's Readjustment Act, also known as the GI Bill. The Department of Veterans Affairs Loan Guaranty Program (VA loan) was established as part of the bill. Today, the VA home loan still exists as a financing option for qualified Active Duty Service Members, Veterans, National Guard members, Reserve members, and eligible surviving spouses for their purchase or refinancing of a home. In addition there are other groups and categories of consumers that may be eligible for VA Lending that are not listed here.  In all things VA Home Loan related we highly recommend that regular consultation of the VA Benefits site: https://www.benefits.va.gov/homeloans/index.asp. 
Several VA Loan Misconceptions
There are several misconceptions about the VA loan, its use, benefits, and drawbacks in recent years.
In this detailed white paper, Vetted VA and Polygon Research examine the VA loan market from a well updated, federal underwriting perspective to address some of these misconceptions, thereby educating mortgage and real estate professionals.
This document explores seven common misconceptions about the VA home loan, how Veterans perceive it, how it is used, and its role in the overall mission to improve homeownership. 
The most common misconceptions regarding VA loans include: 
VA loans are denied at a higher rate (risk).

VA loans are expensive for Veterans.

People with weak financial backgrounds use VA loans and other "no down payment" mortgages to buy homes.

FHA or Conventional loans are better for Veterans than VA loans. 

VA loan appraisals are slow to process and usually come back with low values.

Sellers have to pay all closing costs. 

VA loans can only be used once.