Member Since July 17, 2019
PERFORMANCE REPORT
Member Since July 17, 2019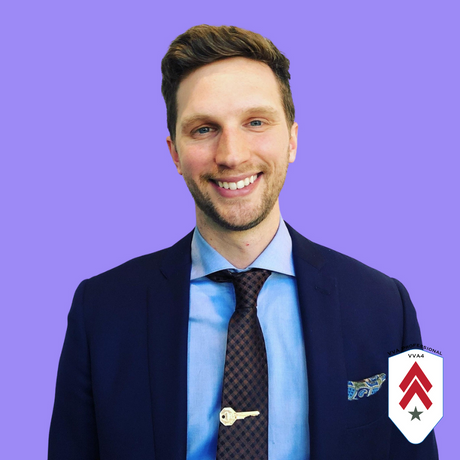 Proudly serving veterans from
Michigan
Christopher is licensed in:
Christopher Thomas
I grew up in Grosse Pointe Farms, Michigan. I graduated from Michigan State University (go Green) and instead of pursuing a job in my field I decided to enter the work force. Since then, I have enjoyed playing soccer in the Detroit City Futbol League, flipped a home in East English Village from the Detroit Land Bank Authority, and bought a home of my own in Grosse Pointe Park, MI with my partner Katherine Thomas with our two dogs Jofa and Abby.
I am proud to say that with support of my family, friends, and community – I am approaching five years in remission from Hodgkins Lymphoma and am thankful for the chemotherapy and radiation care provided at the Van Elslander center. We are enjoying living in Grosse Pointe Park and raising our son. We have a new found love for Pickleball at Patterson Park and always love a bike ride around Belle Isle, but most of the time we are doing the best we can at parenting and balancing work and life!
How I fell into mortgages.
I was working in steel fabrication as a shop manager at Airtec in Detroit, MI and felt like I was stuck with no upward trajectory. I loved the work and getting my hands dirty everyday, but I was looking for a career instead of a job. My then girlfriend Katherine Shabo (now my amazing wife and CEO of Iris Mortgage) found me a perfect opportunity as a loan officer at a small mortgage brokerage in West Bloomfield, MI. After learning obsessively about mortgages and finding my niche I decided to join my wife on her new adventure after five years of originating loans!
Why I do what I do.
I am in love with structuring a loan that is custom tailored to my client. Whether it is a purchase or refinance, there is nothing better than finding the perfect solution for my clients and realtor partners. I have always wanted to be a "helper" my entire life and this is my way of doing it—one mortgage at a time!
About Christopher's VVA Rank
VVA4s are the professionals have earned this rank with time in service as well as exceeding minimum performance standards of VVA3. They have served a minimum of six months as a VVA3, met all performance metrics, and continued to submit their accountability tracking on time regularly. They will answer every question perfectly in accordance with the VA Lender Handbook guidelines, VA resources and, not just one lender's overlays. During these 6 months we are testing their hearts and minds. They will be the embodiment of our institutional core values of honor, courage, and commitment. We want to see the best showing up in VVA4; we want to see how they engage you, respond to your direct questions, and respond to questions that could benefit them but they will never take an individual position to gain through solicitation. We aim to achieve the change we want to find for you and protect you as a Veteran and Active Service Member. Changing the hearts and minds of those helping you is the only authentic way to make a difference. No regulation or rules will help because people are still the same in trying to find easy ways around rules. VVA4 are there to serve you because you serve our Country.
At VVA4 the professional will be eligible to serve as a Squad Leader. This challenge is to begin training peer to peer leadership in a unique way. These peers are not employees, they are not subordinates, they are unique peers that choose to follow and whose leadership must be earned. The minimum time spent in VVA4 will be approximately 1 year.